TYMOTEUSZ HORBIŃSKI PhD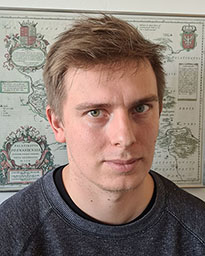 TYMOTEUSZ HORBIŃSKI, PhD
room: 323; phone: +48 61 829 6307; e-mail: tymoteusz.horbinski@amu.edu.pl
Qualifications: PhD degree - Earth and environment sciences; 2016: Master's degree in Geography - specialization Cartography and Remote Sensing; 2020:
Major research interests: Web Map, GUI Map, UI/UX, Cartography in games, Statistics
Find me on:
ORCID: 0000-0002-9681-6762; SCOPUS ID: 57205303617; Web of Science; Google Scholar; ResearchGate; AMU Research Portal
Publications
Chapters
Woźniak J., Horbiński T., Smaczyński M.,

Historia i działalność Sekcji Kartografii i Geomatyki SKNG UAM,

Kostrzewski Andrzej (red.): Stulecie działalności Studenckiego Koła Naukowego Geografów im. Stanisława Pawłowskiego Uniwersytetu im. Adama Mickiewicza w Poznaniu – powstanie, przeszłość i teraźniejszość, Geoprzestrzeń, nr 6, Poznań, Bogucki Wydawnictwo Naukowe, 2023,

ISBN: 978-83-7986-455-3.

Lorek D., Dickmann F., Medyńska-Gulij B., Hannemann N., Cybulski P., Wielebski Ł., Horbiński T.,

The cultural and landscape development of Polish and German industrial centeres,

Bogucki Wydawnictwo Naukowe, Poznań, 2018,

ISBN: 978-83-7986-195-8.
Created maps
The use of the library AmCharts Map
The use of the library Leaflet